David C. Pike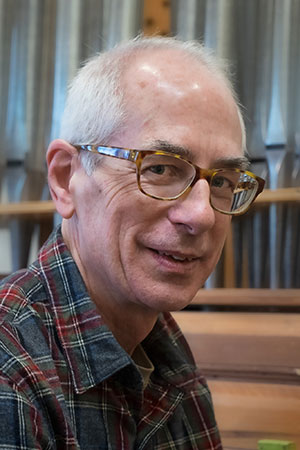 David C. Pike, Executive Vice President, joined the company in 1976. An excellent cabinet maker, he practiced the full range of organbuilding during his early years with the company. David's musical background eventually led him to become an assistant voicer to Charles Fisk, and they first worked together on Opus 78 at House of Hope Presbyterian Church in St. Paul. Working with his mentor, David acquired the commitment to voicing that has been the hallmark of Fisk instruments for over half a century.
In the ensuing years, David enjoyed a substantial role in tonal design, developing stoplists with organists and working closely with acousticians. Among the many instruments he voiced are Opus 84 at Mt. Holyoke College, Opus 98 at First Presbyterian Church, Evansville, Indiana, Opus 100 at the Meyerson Symphony Center in Dallas, and Opus 120 at the Lausanne Cathedral in Switzerland. In 1994, David was named Tonal Director and Head of the Voicing Department.
Educated at the Eastman School of Music, David studied music theory and organ performance, earning a Bachelor of Music degree with highest distinction. Along with other members of the Fisk team, he has participated in numerous on-site research studies of Renaissance, Classical, and Romantic organs in Germany, France, Spain, and, most recently, Italy.
In addition to his work at C.B. Fisk, David is Organist and Director of Music at St.
Mary's Episcopal Church, Rockport, Massachusetts.