phone: 978.283.1909
email: cbfisk@cbfisk.com
Opus 106
McCray Hall, Pittsburg State University
Pittsburg, KS
Ranks
: 57
Independent Voices
: 41
Pipes
: 2720
Created
: 1994
An excellent example of the modestly sized, eclectic instruments forming the core of the Fisk oeuvre, Opus 106 references instruments from Europe as well as from our own company history. The specification was developed with University Organist Dr. Susan Marchant to serve different national styles and periods, offering a teaching and concert instrument that would draw both students and performers to Pittsburg State.
Standing on the stage of McCray Hall, Charles Nazarian's bold lateral design replies to the surrounding architecture, with the artisanal tiles in the entranceway suggesting the teal color of the organ case. Façade pipes of spotted metal are arrayed above the center console. A three-sided Swell box gives the organ a dramatic dynamic range.
To effect authentic performance practice, the strong principal chorus is tuned in the slightly unequal temperament developed by Charles Fisk, giving flavor to the common keys for performance of earlier music but allowing the chromaticism of the 19th and 20th centuries to be heard without compromise. Combining the principals or flutes with solo and mutation stops gives the organ its brilliant colors — some French, some German — all influenced by historic examples. With its single wedge bellows, the flexible wind system imparts greater musical sensitivity to the early organ repertory.  A large wind stabilizer may be employed for music requiring a steadier wind supply.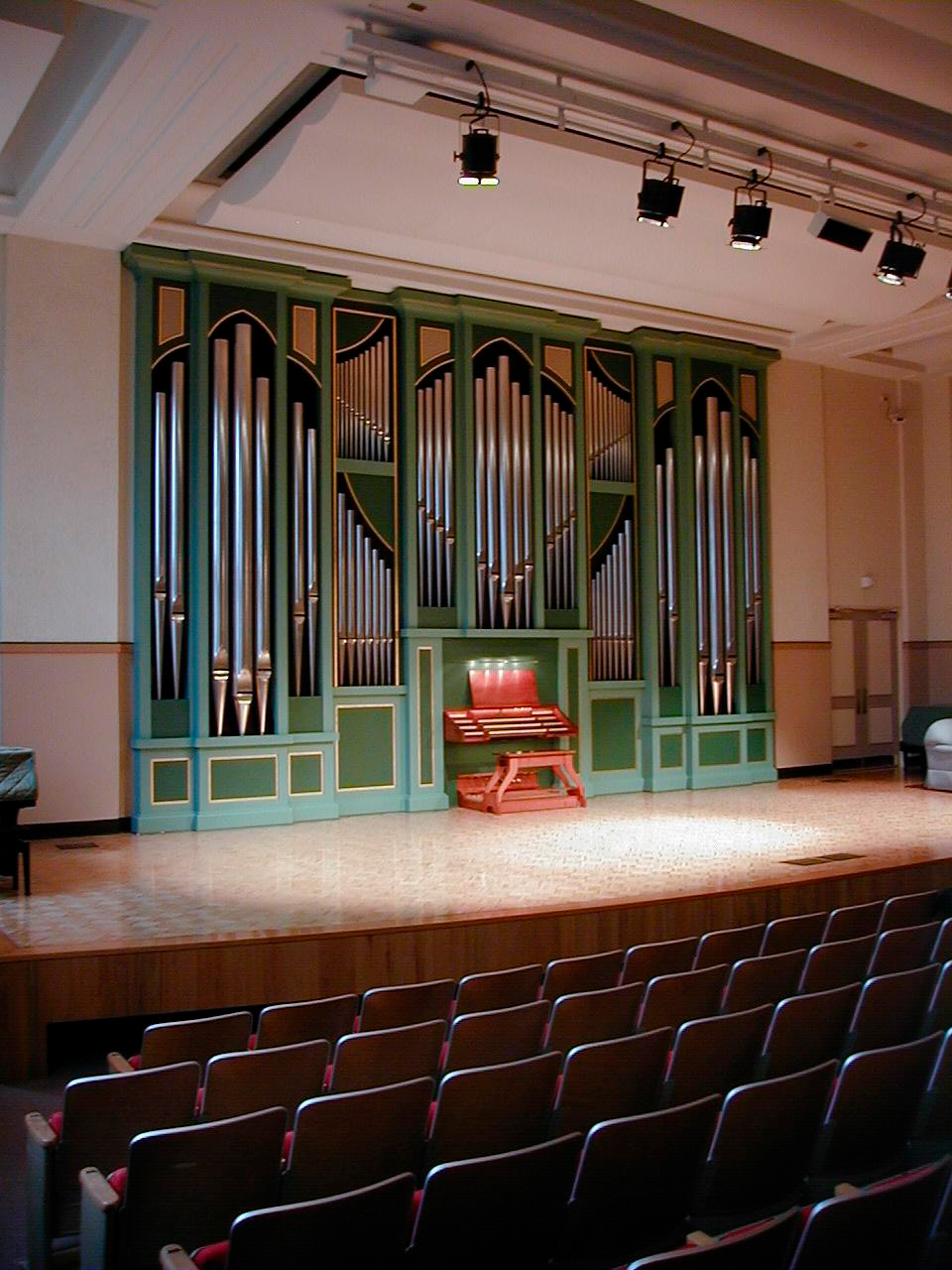 Great, Manual I
Prestant 16′
Octave 8′
Spillfeife 8′
Flûte harmonique 8′
Violoncelle 8′
Octave 4′
WaldflÖte 4′
Twelfth 2 2/3′
Fifteenth 2′
Seventeenth 1 3/5
Progressive Mixture
Mixture V-VI
Trommeten 8′
Trompette 8′
Clairon 4′
Positive, Manual II
Bourdon 16′
Prestant 8′
Gedackt 8′
Octave 4′
Barrpijp 4′
Nazard 2 2/3′
Doublet 2′
Quarte de Nazard 2′
Tierce 1 3/5′
Scharff III-V
Cromorne 8′
Swell, Manual III, enclosed
Flûte traversière 8′
Viole de gambe 8′
Voix céleste 8′
Flûte octaviante 4′
* Octavin 2′
Cornet V (from c1)
* Basson 16′
* Trompette 8′
Hautbois 8′
Voix humaine 8′
Pedal
Bourdon 32′ (ext.)
Open Wood 16′
Prestant 16′ (Gt.)
Bourdon 16′ (Pos.)
Octave 8′
Spillpfeife 8 (Gt.)
Violoncelle 8′ (Gt.)
Octave 4′
Mixture IV
Posaune 16′
Trommeten 8′ (Gt.)
Trompette 8 (Gt.)
Clairon 4′ (Gt.)
Swell to Great
Positive to Great
Swell to Positive
Great to Pedal
Positive to Pedal
Swell to Pedal
Great to Pedal Reversible
Swell to Pedal Reversible
Swell Ventil (brings on * stops that are prepared.)
Wind Stabilizer
Tremulant
Balanced Swell Pedal
Zimbelstern
Key Action: Direct mechanical (tracker), except for the largest pipes of the organ.
Stop Action: Mechanical
Combination action: Two adjustable pairs of pedals ("On" and "Off "), one pair for stops on the right-hand jamb, one pair for stops on the left-hand jamb. Stop knobs are set by rotating knob 1/4 turn.
Manual keboards: CC – a3, 58 notes
Pedal (flat and parallel): CC – f1, 30 notes