Case Study: Opus 150
Christ Church
Philadelphia, PA
The Church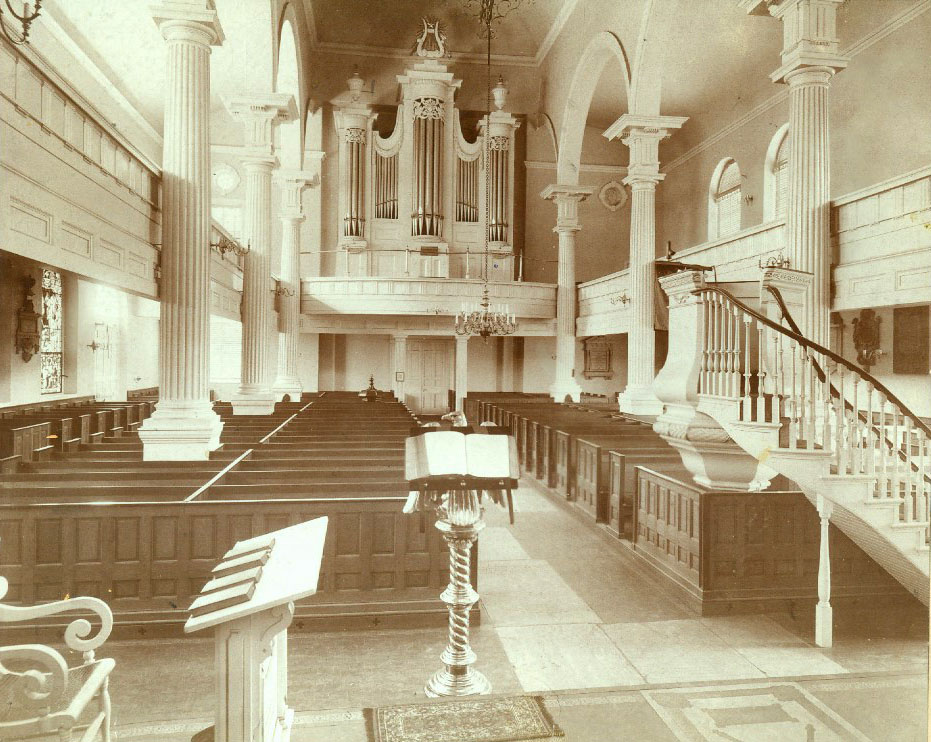 There may be no city in America with more passion for architectural preservation than Philadelphia, and historic Christ Church embodies that passion in the heart of the Old City district.
Christ Church was founded in 1695. Known as "The Nation's Church," it hosted members of the Continental Congress during the American Revolution and Presidents George Washington and John Adams in the first decade of the newly established Republic. Among early members were Benjamin and Deborah Franklin, Betsy Ross, William Penn's grandson, John, and several signers of the Constitution and Declaration of Independence. Absalom Jones, the nation's first black priest, received his ordination at Christ Church.
Dating to 1744, the current building is one of the finest Georgian structures in America. Its steeple, built 10 years later and financed through a lottery organized by Benjamin Franklin, made Christ Church the tallest structure in North America until 1810.
The Organ
At the center of the wrap-around gallery, under an elegant barrel vault ceiling, stands the stunning white organ case whose history began with the original pre-Revolutionary instrument by Philip Feyring. From the 1830's it held a distinguished later organ by Henry Erben and now, with additions, encloses Fisk Opus 150.
A thorough acoustical evaluation of the building revealed three aural sweet spots for organ sound: 12 ft above the gallery floor where where we located the Great and Swell divisions, another spot about 6 ft higher where four Great division solo stops now beautifully engage the vaulted ceiling and a lovely, delicate and focused location for sound at the center of the paneled, bow-front Gallery rail.
Understanding how fraught the decision might be to make changes to the historic Gallery, we felt some trepidation when we proposed a Chaire division at the rail, but our explanation of the musical benefit and a clear and compelling 3-dimensional scale model made the case persuasively. Our close collaboration with John Milner Architects, under the courageous and vigilant oversight of the Christ Church Preservation Trust and the Organ and Building Committees, resulted in a completely harmonious addition to the organ, for the benefit of the congregation and the many thousands of people who visit Christ Church each year.
Tonal design
The tonal design is eclectic and comprises elements of both German Baroque organ building as well as those of the French Romantic school, most notably the work of Aristide Cavaillé-Coll. The Chaire division is scaled and voiced in a gentle Germanic style reminiscent of the 18th century Pennsylvania German organ builders. All manual divisions are winded on a relatively low 2¼" wind pressure, echoing some of our firm's important early instruments at Calvary Church in Baltimore and King's Chapel and Old West Church, Boston.