phone: 978.283.1909
email: cbfisk@cbfisk.com
Opus 143
St. Mark's Lutheran Church
China Grove, NC
Stops: 21
Independent Voices: 18
Pipes: 1192
Created: 2013
A generous and unexpected bequest from a former choir member provided the opportunity to fulfill the long-held dream of a new organ for St. Marks. During the finish voicing of our Opus 136 in nearby Charlotte we began discussions with organist and organ consultant Vince Crist. While the organ design process was underway we worked closely with church leaders as they considered renovations and improvements to their sanctuary. An Open House was held for Opus 143 at the workshop in March 2012, and the organ was delivered to the church in early December as renovations to the building were completed. The dedication of the instrument took place on June 2, 2013 at the morning service with an inaugural recital by Dr. Jacqueline Yost that afternoon.
The St. Mark's music program is headed by Elizabeth Staton, who studied at Greensboro College with two longtime Fisk friends, Dr. Harold Andrews and Dr. Henry Ingram. Their influence led Ms. Staton and the church to consider our work many years later. The organ is located at the front of the church with two manuals and pedals, 21 stops in an eclectic tonal style. The case is quarter-sawn white oak with hammered lead facade pipes from the 8′ Prestant on the Great.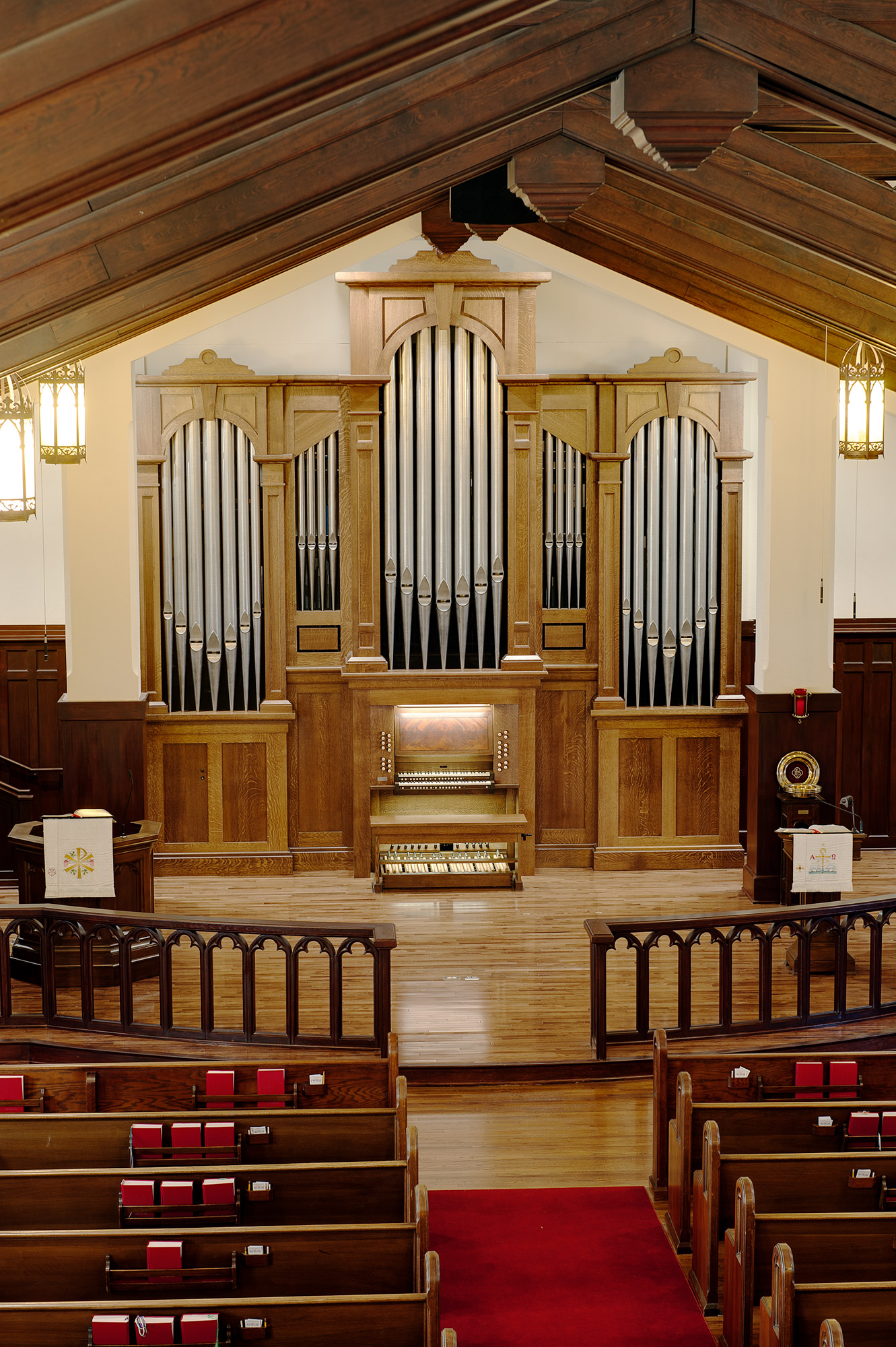 Great, Manual I
Prestant 8′
Spire Flute 8′
Octave 4′
Chimney Flute 4′
Superoctave 2′
Mixture IV
Trumpet 8′
Swell, Man II, enclosed
Viole de gambe 8′
Voix céleste 8′ (from C 0 )
Bourdon 8′
Traverse Flute 4′
Nasard 2 2/3′
Gemshorn 2′
Tierce 1 3/5′
Hautbois 8′
Pedal
Soubasse 16′
Octave 8′
Bourdon 8′ (ext. Soubasse 16′)
Octave 4′ (ext. Octave 8′)
Trombone 16′
Trommet 8′ (ext. Trombone 16′)
Swell to Great
Great to Pedal
Swell to Pedal
Swell to Pedal Super
Tremulant
Balanced Swell Pedal
Cymbelstern
Stop action: Electric solenoid
Combination Action
Keydesk: Built into the case, two manuals and pedals;
manuals 61 keys CC-c 4 , naturals of bone, sharps of ebony;
Pedalboard: 32 keys CC-g 1 .