phone: 978.283.1909
email: cbfisk@cbfisk.com
Opus 131
St. Paul's Episcopal Church
Winston-Salem, NC
Ranks
: 20
Independent Voices
: 17
Pipes
: 1160
Created
: 2004
St. Paul's Episcopal Church in Winston-Salem, North Carolina has a long history of quality instruments associated with its distinguished music program. When the main church was built in 1928, the parish commissioned a landmark four-manual E. M. Skinner organ. At the turn of the new millenium, as St. Paul's began designs for a new chapel, the organ committee, led by consultant John Mueller, made a field trip to our shop in Massachusetts. Impressed by the workshop, the instruments we were working on, and the staff, St. Paul's contracted us to build the Samson-Loetzer Memorial Organ in the new space.
To help decrease the construction and delivery time, it was agreed to make the project a collaborative effort between our workshop and Schreiner Pipe Organs, Ltd., of Schenectady, New York. The organ was originally conceived along the lines of Opus 107 in Dover, Massachusetts, with a console on the floor and pipework in the balcony. When the balcony was removed from the chapel plans, our work in the scale model of the building led to a freestanding design that reflected the chapel's simple elegance. Opus 131's case of quarter-sawn white oak stands more than twenty-seven feet in height and includes two manuals and seventeen stops.
The organ's 8′ foundation stops surround the congregation with a warm, singing tone. The Great Prestant 8′ of hammered lead, en façade, is an especially vocal stop which encourages congregational singing. Gently voiced brighter stops and an effective swell box allow for maximum versatility when congregations are small. Opus 131 serves the congregation as a vehicle for musical excellence in liturgy and is a pleasing addition to its surroundings.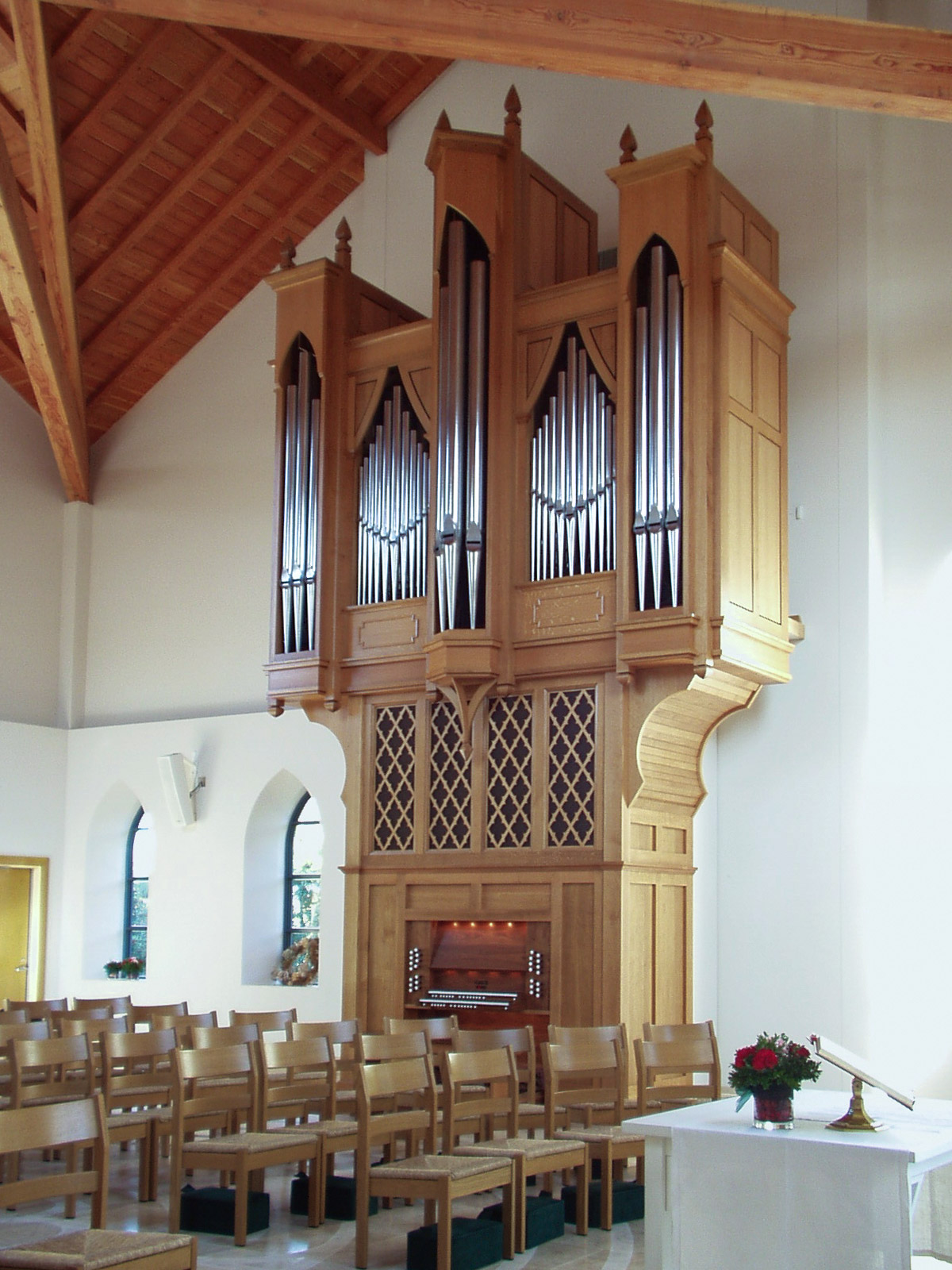 Great
Bourdon 16′
Prestant 8′
Spire Flute 8′
Octave 4′
Chimney Flute 4′
Superoctave 2′
Mixture IV
Trumpet 8′
Swell
Violin Diapason 8′
Voix céleste 8′ (Co)
Stopt Diapason 8′
Traverse Flute 4′
Nasard 29 2/3′
Gemshorn 2′
Tierce 19 3/5′
Oboe 8′
Pedal
Bourdon 16′     Great
Prestant 8′     Great
Spire Flute 8′     Great
Octave 4′     Great
Trombone 16′
Trumpet 8′     Great
Swell to Great
Great to Pedal
Swell to Pedal
Tremulant
Balanced Swell Pedal
Key action: Direct mechanical (tracker)
Stop action: Electric with a modern multi-level combination action
Keydesk: Built into the case, two manuals and pedals; manuals 61 keys CC9c4, naturals of bone, sharps of ebony; pedalboard 32 keys CC9g1.