phone: 978.283.1909
email: cbfisk@cbfisk.com
Opus 123
St. Chrysostom's Episcopal Church
Chicago, IL
Ranks
: 33
Independent Voices
: 24
Pipes
: 1729
Created
: 2004
When Richard Hoskins, Director of Music and Organist of St. Chrysostom's, began the search for a new organ, we were delighted that Fisk appeared at the top of his list. He wanted an expressive instrument that would accompany his renowned choir, provide support for the Episcopal liturgy, and be featured in recital.
The new instrument, our first in the Chicago metropolitan area, is divided on either side of the monumental stained glass window at the back of the church.  The manual divisions reside in the left hand case with the Great above the Swell; the keydesk is attached to the front. The Pedal division occupies the opposite case sixteen feet away with its trackers running beneath the floor. The risers between the two organ cases provide an ideal placement for the choir. A special HVAC unit was designed to address the temperature variations that could have been troublesome for an instrument so close to an exterior window.
The hammered lead façade pipes begin with low DD of the Prestant 16′, while the side arrays take their pipes from the Great Prestant 8′ and the Pedal Octave 8′.  The dark, bluish patina of lead pipes blends well with the predominantly blue window and the darkly stained mahogany organ cases.  Heavy masonry walls on all sides focus and support the sound of the organ.
The manual divisions are winded from a common wedge bellows. Concussion bellows stabilize the wind allowing music requiring steady wind to be played. The Flexible Wind knob, a standard feature of many Fisk organs, may be engaged to allow wonderful buoyancy for earlier music with lighter textures.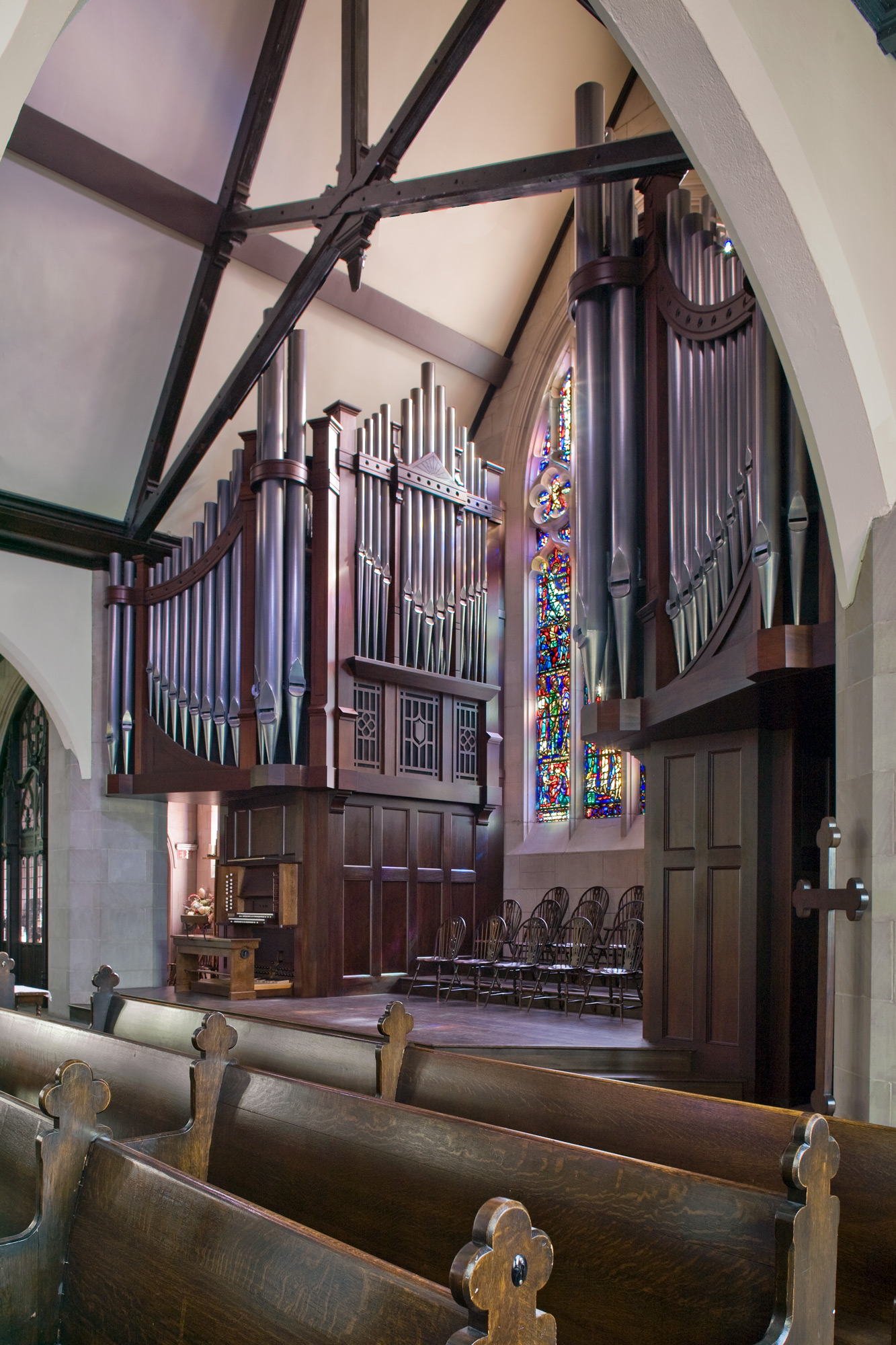 Great, 58 notes
Prestant 16′
Octave 8′
Spire Flute 8′
Octave 4′
Open Flute 4′
Fifteenth 2′
Mixture IV-VI     262
Trompette 8′
Swell, 58 notes, enclosed
Viole de gambe 8′
Voix céleste 8′
Flûte traversière 8′
Bourdon 8′
Principal 4′
Flûte octaviante 4′
Octavin 2′
Cornet II
Plein jeu IV
Bombarde 16′
Trompette 8′
Hautbois 8′
Pedal, 30 notes
Contrebasse 16′
Prestant 16′     Great
Soubasse 16′
Octave 8′
Bourdon 8′     Extension
Superoctave 4′     Extension
Trombone 16′
Trumpet 8′     Extension
Swell to Great
Swell to Pedal
Great to Pedal
Tremulant
Flexible Wind
Balanced Swell Pedal
Key action: Direct mechanical (tracker), Stop action: Electrically controlled Solenoids
Combination Action: Multi-Level Combination Action. New piston rails and toe studs.
Casework: Free standing in two cases at the back of the sanctuary, made of wood to harmonize with and enhance the existing interior. Front pipes of polished hammered lead.
Keydesk: Attached to lefthand case; two manuals and pedals; manuals 58 keys CC-a3, naturals of cowbone, sharps of ebony; pedalboard 30 keys CC-f1.