phone: 978.283.1909
email: cbfisk@cbfisk.com
Opus 121
Daniel Chapel, Furman University
Greenville, SC
Ranks
: 54
Independent Voices
: 42
Pipes
: 2929
Created
: 2003
In the summer of 1998 Tom and the late Edna Hartness announced their intention to provide funding for an organ at the new Chapel in memory of Charles Daniel at Furman University.  Their generous gift became the three-manual, forty-two-stop instrument that stands there today.
Charles Boyd Tompkins, Professor of Music and University Organist at Furman, had begun conversations with us about a new instrument in 1993.  It was agreed from the outset that the instrument would need to serve a variety of roles: in liturgies for the chapel, in ensemble work with choirs and instrumentalists, and as a teaching and solo instrument.  The stoplist was developed in close consultation with Dr. Tompkins over the long planning process, and reflects these varied uses.
The advantageous placement on the main axis of the building in the front of the chapel enables the organ to engage the room both acoustically and visually.  The acoustics are delightful, and the instrument can be heard clearly at the console as well as at the very back of the room. The architecture, a pleasant mix of southern classic Georgian and post modern styles, provides a wonderful context for the organ's mahogany casework and burnished tin façade pipes, the largest of which are from the Prestant 16′.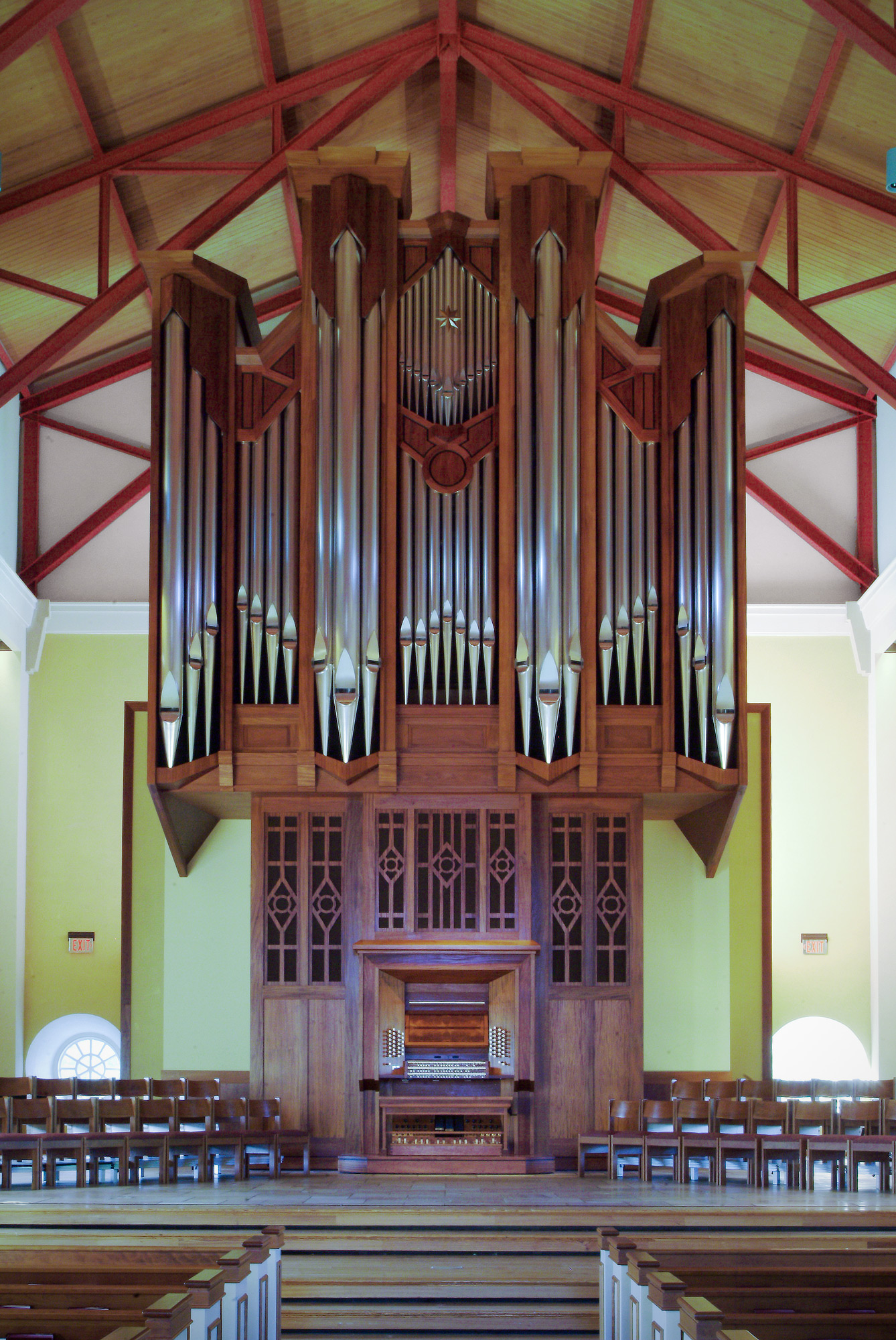 Great, Manual I
Prestant 16′
Octave 8′
Spillpfeife 8′
Flûte harmonique 8′
Octave 4′
Offenflöte 4′
Quinte 2 2/3′
Superoctave 2′
Mixture IV-VI
Trompette 8′
Clairon 4′
Positive, Manual II,
enclosed
Quintadehn 16′
Principal 8′
Gedackt 8′
Octave 4′
Rohrflöte 4′
Nasard 2 2/3′
Doublette 2′
Tierce 1 3/5′
Larigot 1 1/3′
Mixture IV
Cor anglais 16′
Cromorne 8′
Swell, Manual III,
enclosed
Bourdon 16′
Viole de gambe 8′
Voix céleste 8′
Flûte traversière 8′
Prestant 4′
Flûte octaviante 4′
Cornet II (G0—f3)
Octavin 2′
Plein jeu IV
Bombarde 16′
Trompette 8′
Hautbois 8′
Clairon 4′
Pedal, 32 notes
Bourdon 32′
Contrebasse 16'
Prestant 16′     Great
Soubasse 16′     from 32′
Octave 8′
Spillpfeife 8′     Great
Superoctave 4′
Posaune 16
Trompette 8′     Great
Clairon 4′     Great
Positive to Great
Swell to Great
Great Octaves Graves
Swell to Positive
Great to Pedal
Swell to Pedal
Positive to Pedal
Positive Super to Pedal
General Tremulant
Positive Tremulant
Flexible Wind
Cymbalstern
Balanced Swell and Positive Pedals
Key action: Direct mechanical (tracker)
Kowalyshyn Servopneumatic Lever
Stop action: Electric Solenoid
Combination Action: A modern solid state action with multiple levels of memory.
Casework: A single cabinet of solid cherry wood, free standing in the front of the chapel
Front pipes of polished tin