phone: 978.283.1909
email: cbfisk@cbfisk.com
Opus 148
Centennial Chapel, Christ Church Cathedral
Cincinnati, OH
Stops: 22
Independent Voices: 20
Pipes: 1,078
Created: 2018
The intimate 100-seat Centennial Chapel at Christ Church Episcopal Cathedral in downtown Cincinnati is a lovely example of the neo-Gothic architectural style. Consecrated in 1917, the Chapel's lofty coffered ceiling, masonry floor, and limestone walls offer a warm, resonant, and clear acoustic – a fitting setting for an organ whose tonal models include Italian organs of the late 16th-century (Antegnati) and the 18th– and 19th-centuries (Serassi).
In November 2014, Fisk personnel, together with Director of Music Stephan Casurella and violinist Harold Byers, Chairman of the Cathedral's Music Committee, embarked on a 10-day research trip to northern Italy in preparation for the designing of the instrument.  The internationally acclaimed organist, harpsichordist, scholar, and conductor Francesco Cera organized the itinerary and accompanied us throughout the journey, ably demonstrating each organ they visited. This research proved invaluable to both the tonal and visual designs of Opus 148.
Canon Precentor and Director of Music Stephan Casurella and Associate Director of Music Shiloh Roby preside over an ambitious music program that contributes regularly to the rich worship life of the Cathedral.  In addition, a series of organ recitals, as well as weekly "Music Live at Lunch" performances, are offered to the public, adding to the vivid and varied cultural life of Cincinnati.
Opus 148 was installed in Centennial Chapel in April 2018. Tonal finishing continued through the summer and fall months, with dedication festivities, featuring recitals by Francesco Cera, in October.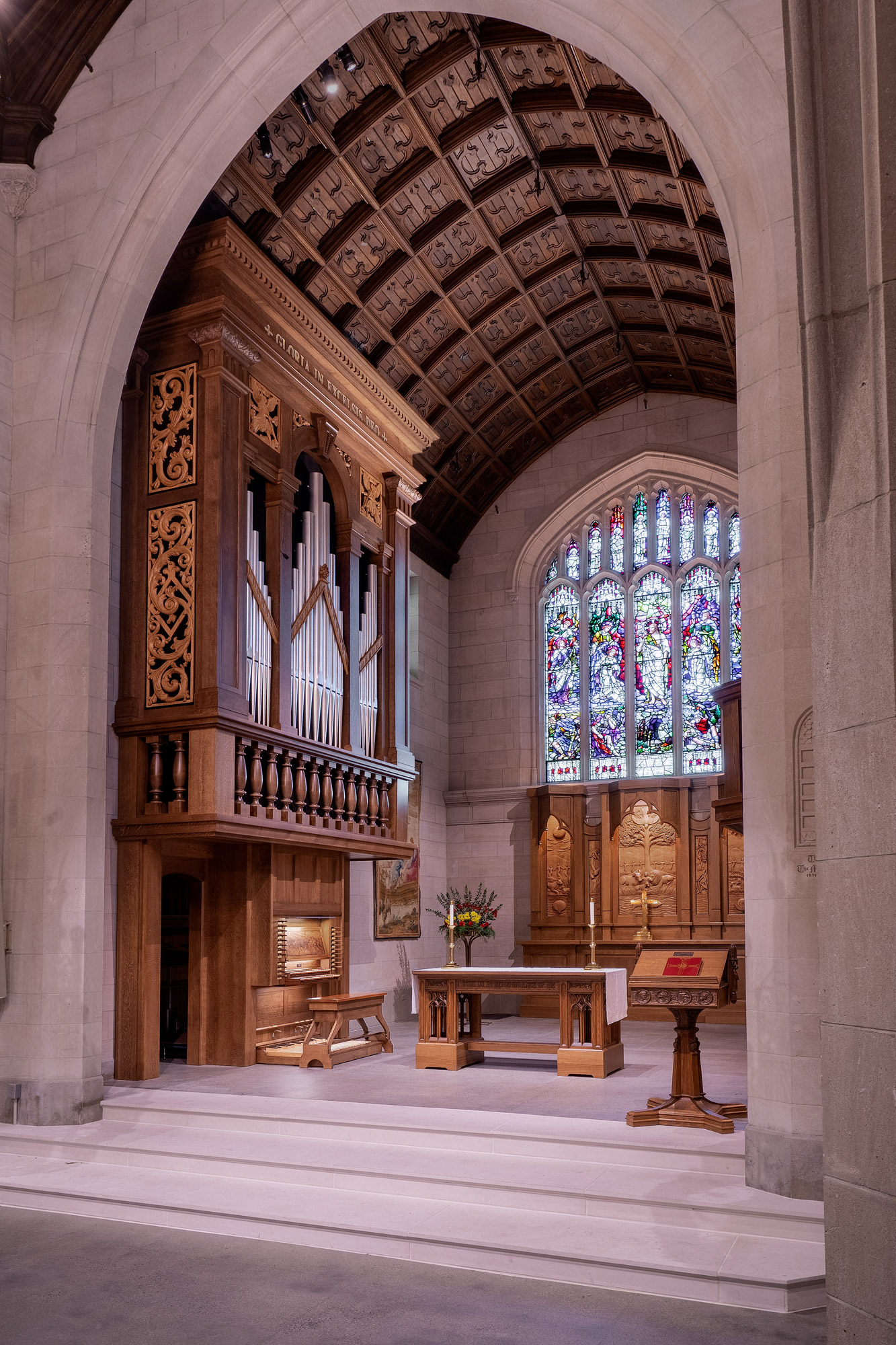 Manual I
Principale 8 ́(façade)
Ottava 4 ́ *
Quintadecima 2 ́ *
Decima nona 11⁄3 ́ *
Vigesima seconda 1 ́*
Vigesima sesta 2⁄3 ́ *
Cornetto III (a0 – d3
)
Flauto in Ottava 4 ́
Flauto in XII 22⁄3 ́
Voce Umana 8 ́ (c0)
Manual II
Principale 8 ́
Viola da Gamba 8 ́
Flauto Traverso 8 ́ †
Flutta Camino 8 ́ (à biberon)
Violino 4 ́
Flauto in Selva 4 ́ (à biberon)
Frazolè 2 ́
Tromba 8 ́
Pedal
Violoni Bassi 16 ́
Bassi Stoppi 16 ́
Principale 8 ́ (Man. I)
Ottava 4 ́ (Man. I)
* Stops that are brought on by depressing the Ripieno pedal
† CC-BB from Flutta Camino
Manual II to Manual I
Manual I to Pedal
Manual II to Pedal
Tremolo
Manual II to Manual I
Manual I to Pedal
Manual II to Pedal
Tremolo
Mechanical Key Action
Mechanical Stop Action – Italian Lever System
Casework: A single cabinet of wood, designed to harmonize with and adorn the Chapel architecture.
Hand carved decoration.
Front pipes of polished hammered tin.
2 Manuals and Pedal, 56/30
Wind System: In addition to an electric blower, a manually operated system of 3 single-rise cuneiform bellows, based
on historic examples, is included. Also included is a mechanically-controlled automatic bellows lifting system.