phone: 978.283.1909
email: cbfisk@cbfisk.com
Opus 127
St. John's Episcopal Church
Tallahassee, FL
Ranks
: 39
Independent Voices
: 31
Pipes
: 1940
Created
: 2005
St. John's set out a bold vision that included not only a new instrument to lead worship, but an architectural and acoustical renaissance that created a worship space of singular elegance, style, and sound.  Opus 127 was designed to provide the most versatile instrument possible for playing the wide variety of music in the Episcopal liturgy, the Anglican choral tradition, and the organ repertoire. 
While preserving much of the fabric and feel of the 1881 Stick Gothic interior, a new balcony provided the optimum placement for the organ, expanded the space at the altar rail, and eased the "traffic" flow during Communion. Charles Fisk's maxims, The most important stop on any organ is the room, and It's much happier to build a smaller organ in a good room than a larger organ in a bad room, came into play when acoustical work was needed. The size of the organ was reduced by six stops in order to apply the resulting savings to acoustical alterations.  Thanks to the generosity of many supporters, all six of the deferred stops were re-added late in the construction process, and the organ was delivered as originally designed, to fit perfectly into the gallery and to beautifully reflect the architecture of St. John's Church.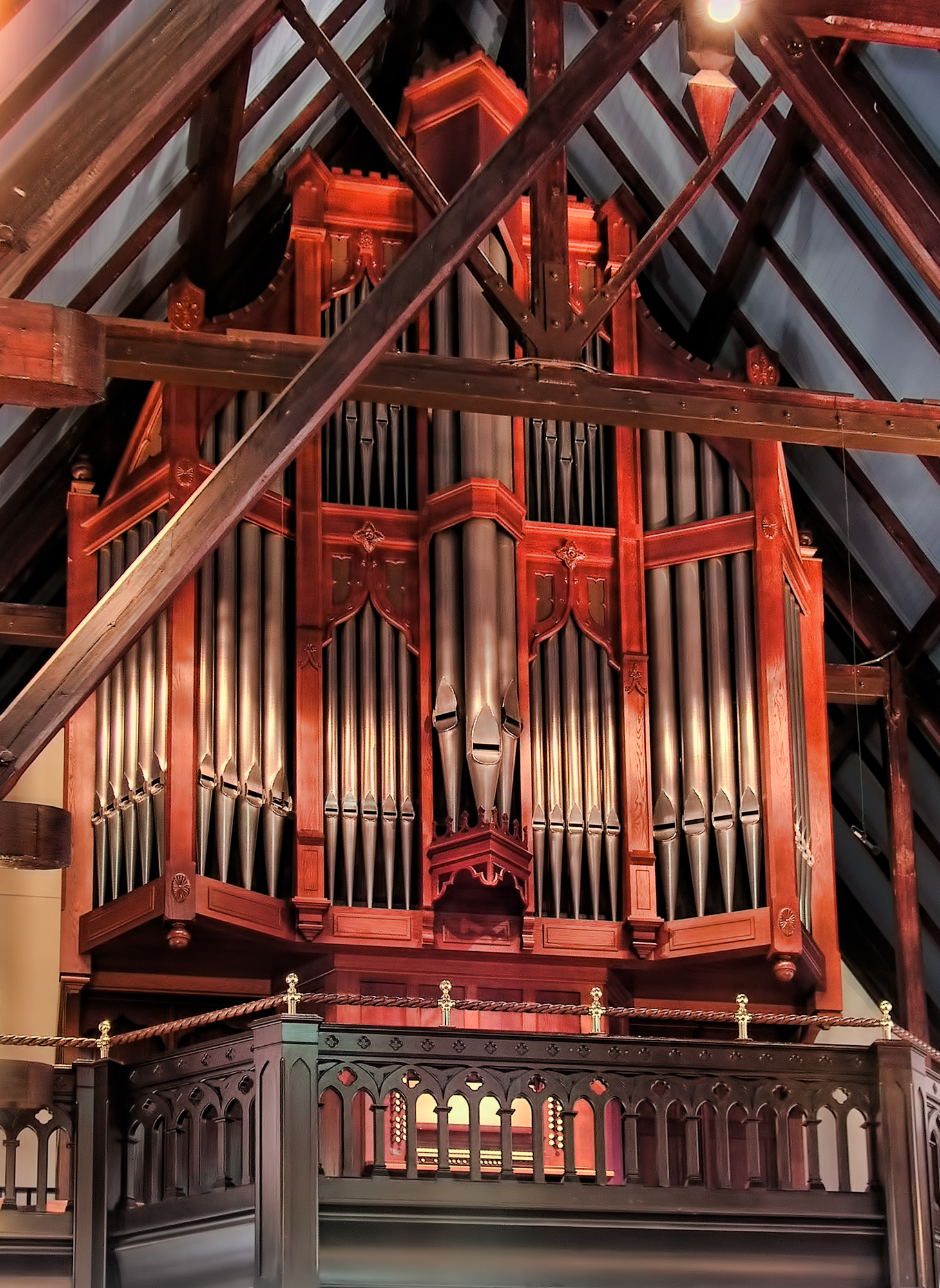 GREAT 58 notes
Prestant 16′
Octave 8′
Spillpfeife 8′
Harmonic Flute 8′
Octave 4′
Rohrflöte 4′
Quinte 2 2/3′
Superoctave 2′
Terz 1 3/5′
Mixture IV-VI
Dulcian 16′
Trommeten 8′
SWELL 58 notes, enclosed
Bourdon 16′
Diapason 8′
Voix céleste 8′     (from GG)
Bourdon 8′
Dulciane 4′
Flûte octaviante 4′
Nasard 2 2/3′
Octavin 2′
Tierce 1 3/5′
Plein jeu IV
Trompette 8′
Hautbois 8′
PEDAL, 30 notes
Contrebasse 16′
Prestant 16′     Great
Bourdon 16′     1-12 Swell
Octave 8′
Flûte 8′
Superoctave 4′
Trombone 16′
Trompette 8′
Swell to Great
Great to Pedal
Swell to Pedal
Swell Super to Pedal
Tremulant
Flexible Wind
Balanced Swell Pedal
Key action: Direct mechanical (tracker), except for certain large bass pipes.
Stop action: Electrically controlled Solenoids
Combination Action: Solid State Logic, Ltd. Multi-Level Combination Action
Keydesk: Built into the case, two manuals and pedals; manuals 58 keys CC-a3, naturals of cowbone, sharps of ebony; pedalboard 30 keys CC-f1
Casework: A single cabinet of wood, free standing in the rear gallery of the sanctuary, designed to
harmonize with and adorn the church interior. Front pipes of polished hammered lead.